Works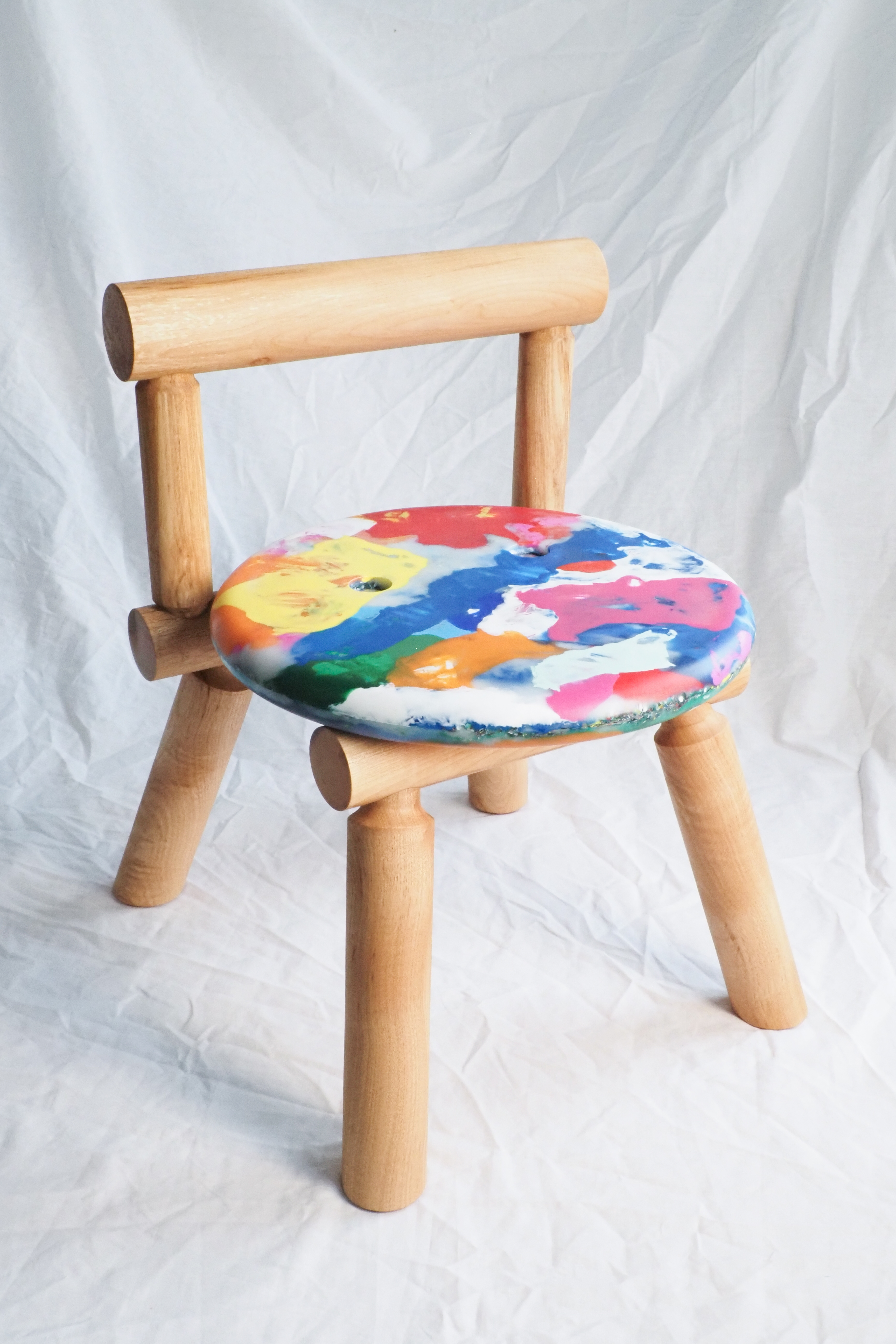 Wee Wan Kids Chair
A chair for the kids to sit and scribble, make mess and have fun.
The top is made of bleach, contact lens solution and detergent bottles chopped up and smushed together with some Lucozade and cola lids.
The wooden components are lathed from a mixture of the following Scottish timbers: Lime, Ash, Beech, Sycamore, Oak and Sweet Chestnut all finished with organic linseed oil.
Truly a child of the forest!
Total Height: 440mm
Seat Height: 270mm
Seat Diameter: 310mm
Weight: 4.5KG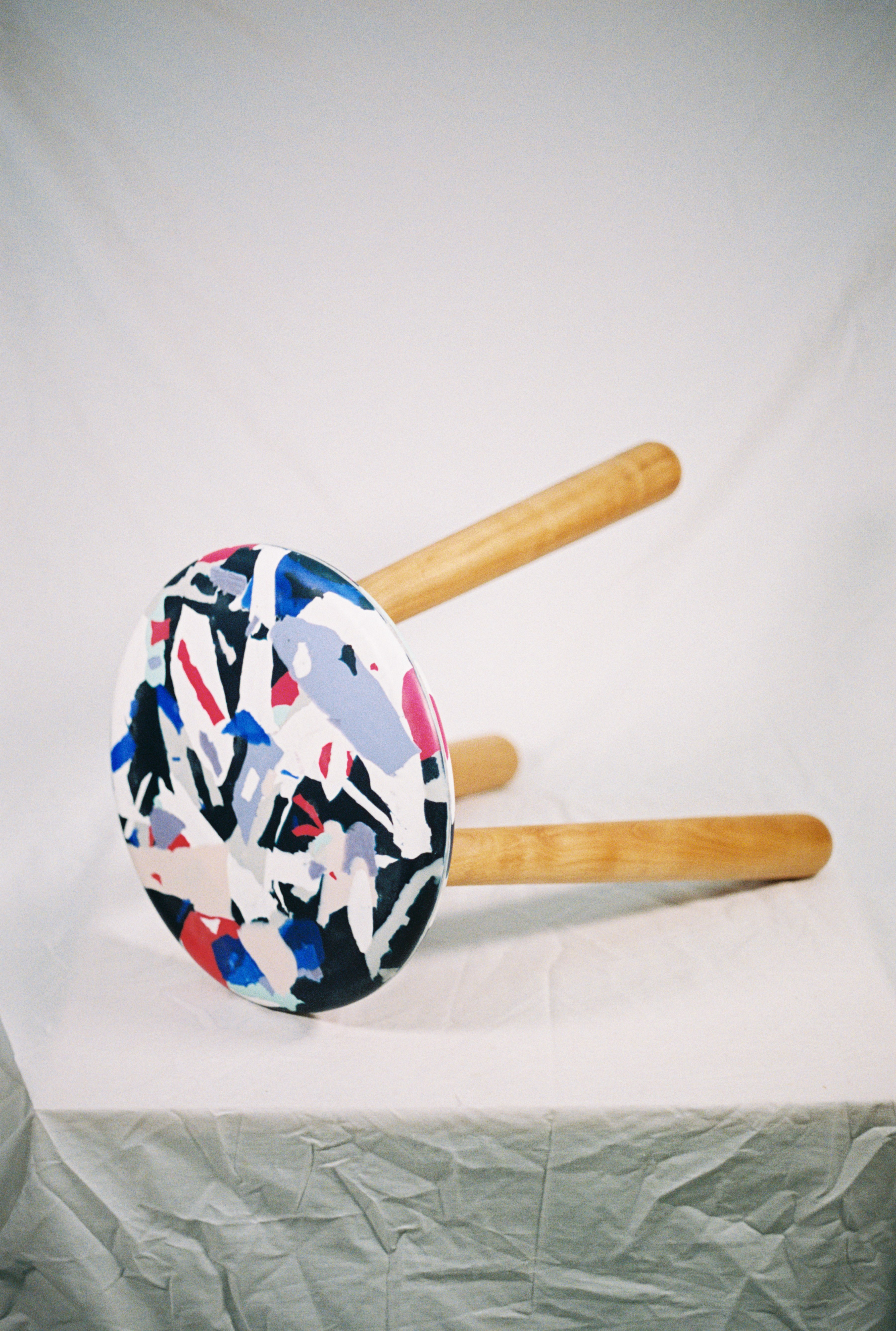 Squishy Stool
2.2KG of recycled HDPE goes into each top.
In this case bleach, shampoo and household cleaning bottles were selected, cut up, and arranged to create this floaty collage of colour.
The legs are lathed from Scottish beech and treated with organic linseed oil.
To make sure the Stool is recyclable the top and legs are joined together by cutting a thread into both parts, similar to that on a nut and bolt, meaning that for assembly the legs can simply be screwed in.
If for whatever reason a part breaks it can be unscrewed, replaced and recycled. Or if the stool reaches the end of its life both materials can be recycled separately
Stool Height: 450mm
Seat Diameter: 310mm
Weight: 3.5KG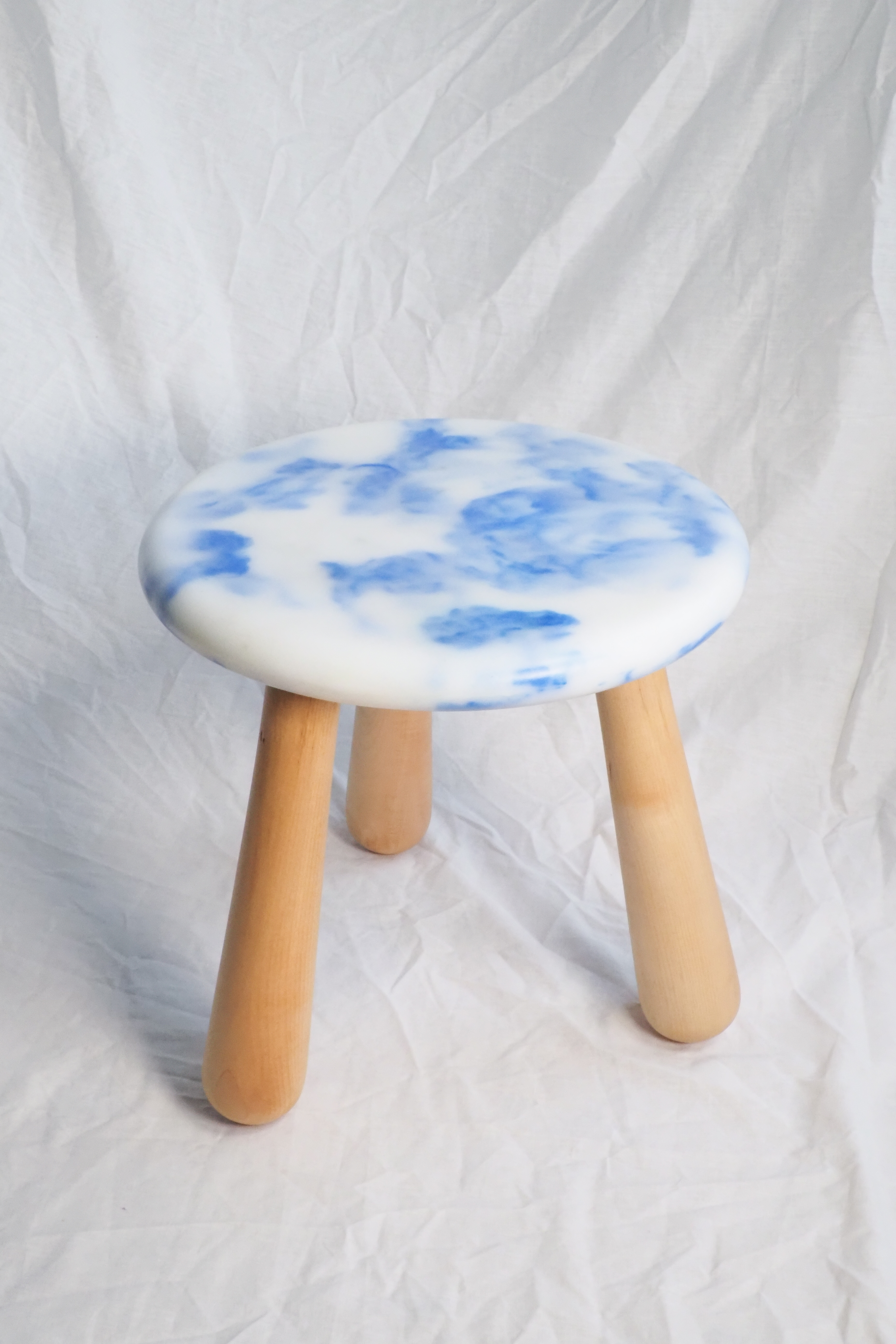 Creepie Stool
The design has the same features as the squishy stool just slight shorter.
This height is inspired by the Orkney Creepies, stools traditionally used for sitting down by the fire while stirring the porridge or for milking the ol' cow.
Fluffy clouds from a pastoral scene on a dutch dish, or the opening credits of the Simpsons.
This top is made primarily from 35mm film canisters with some blue milk lids.
The legs are lathed from Scottish Lime and treated with organic linseed oil.
Stool Height 300mm
Seat Diameter 310mm
Weight: 3.3KG
Bread Knife
Made in collaboration with our friend @Clementknives.
We make the handles he does the blades.
The handle is made of 75g of recycled LDPE bottle tops, film canister lids, bags and other bits.
Approx measurements:
Length: 385mm
Handle: 135 mm
Blade: 250 mm
Weight: 150g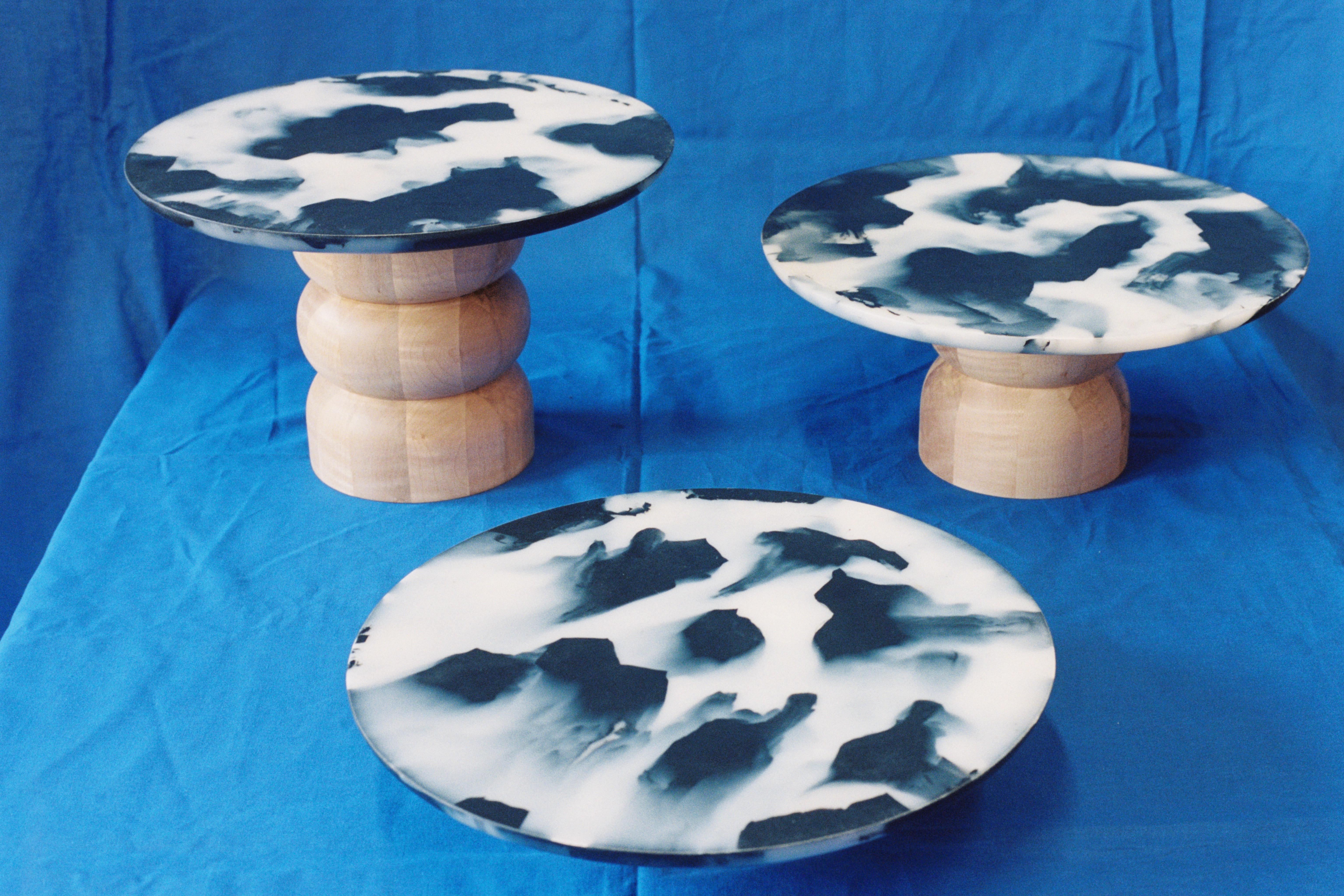 Cake Stands
A nice commision for a our friends at TOAD Bakery in London. Plinths for Pastries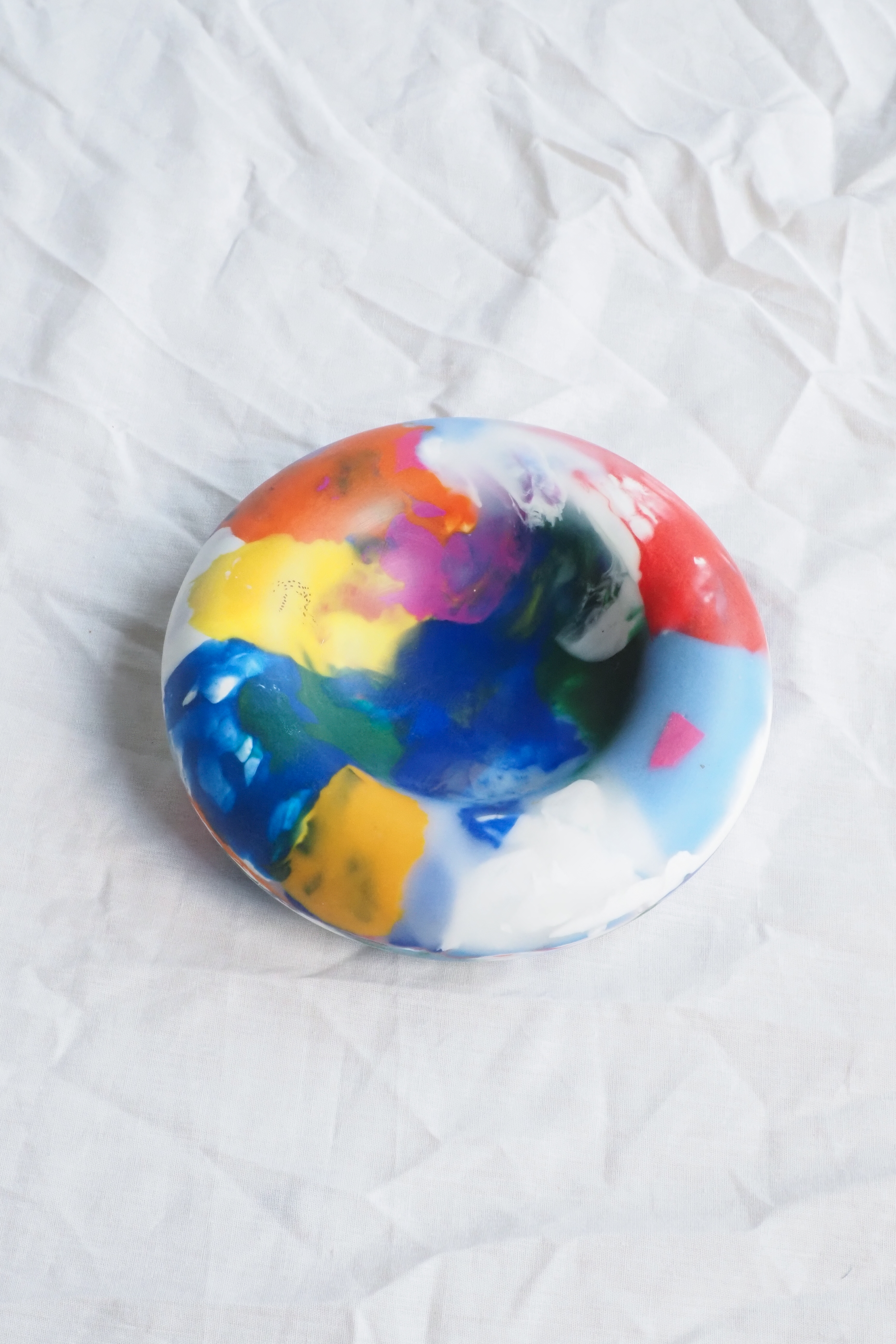 Squish Dish
A little squish dish to save your keys and pocket gubbins from the odd sock goblin and washing machine.
Diameter: 155mm
Weight: 450g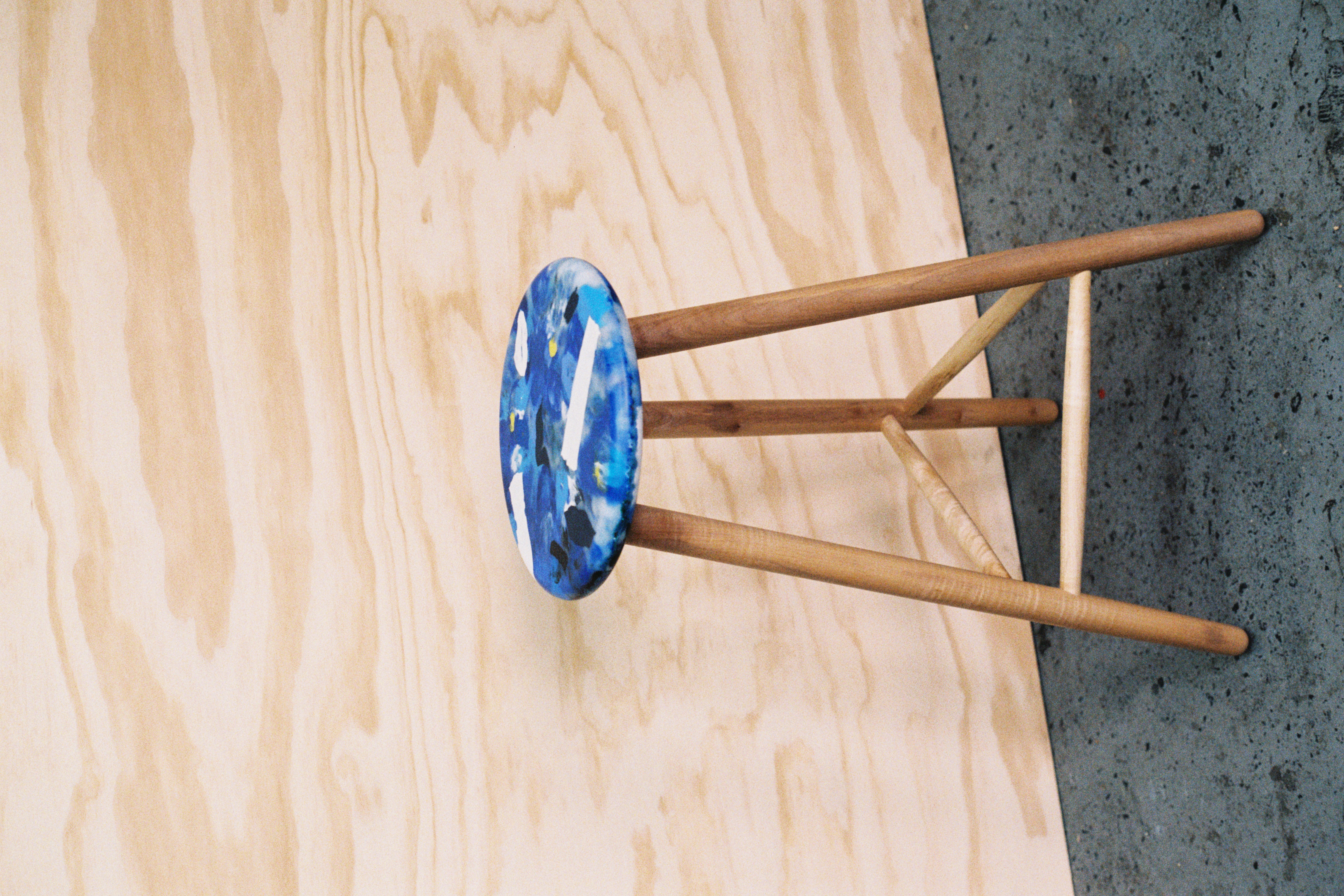 Bar Stool
A Spot for slurping your manhattan or negroni.
With our barstools you have the option to design your own top included in the price.
You can email us a drawing or show us a painting or a picture of something that you'd like to inspire the top design.
The lead time will then be 6-8 weeks from when we receive the designs.
The legs can be either beech (B&W Stool) or sycamore (Blue Stools) as standard but if you'd like a specific wood, just get in touch and we'll try to help.
Stool Height: 700mm standard but we can do custom heights between 600-700mm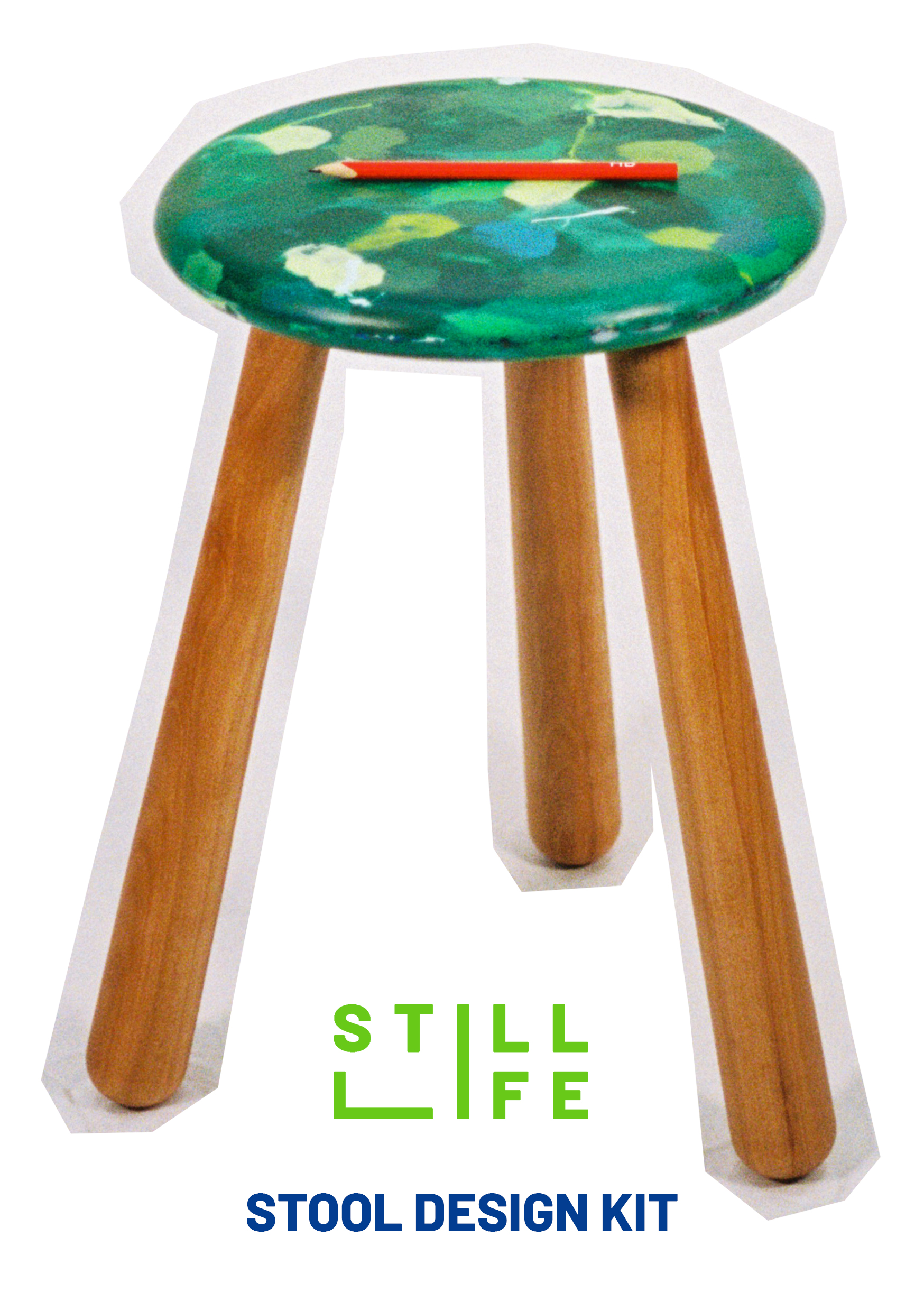 Design Kit
We came up with the design kit as a way to enable people to be a more involved in the design process.
We send out the kit and all they need to do is draw their dream stool top and send it back to us, then we'll recreate it out of recycled plastic.
Quite often the best designs are done by kids :)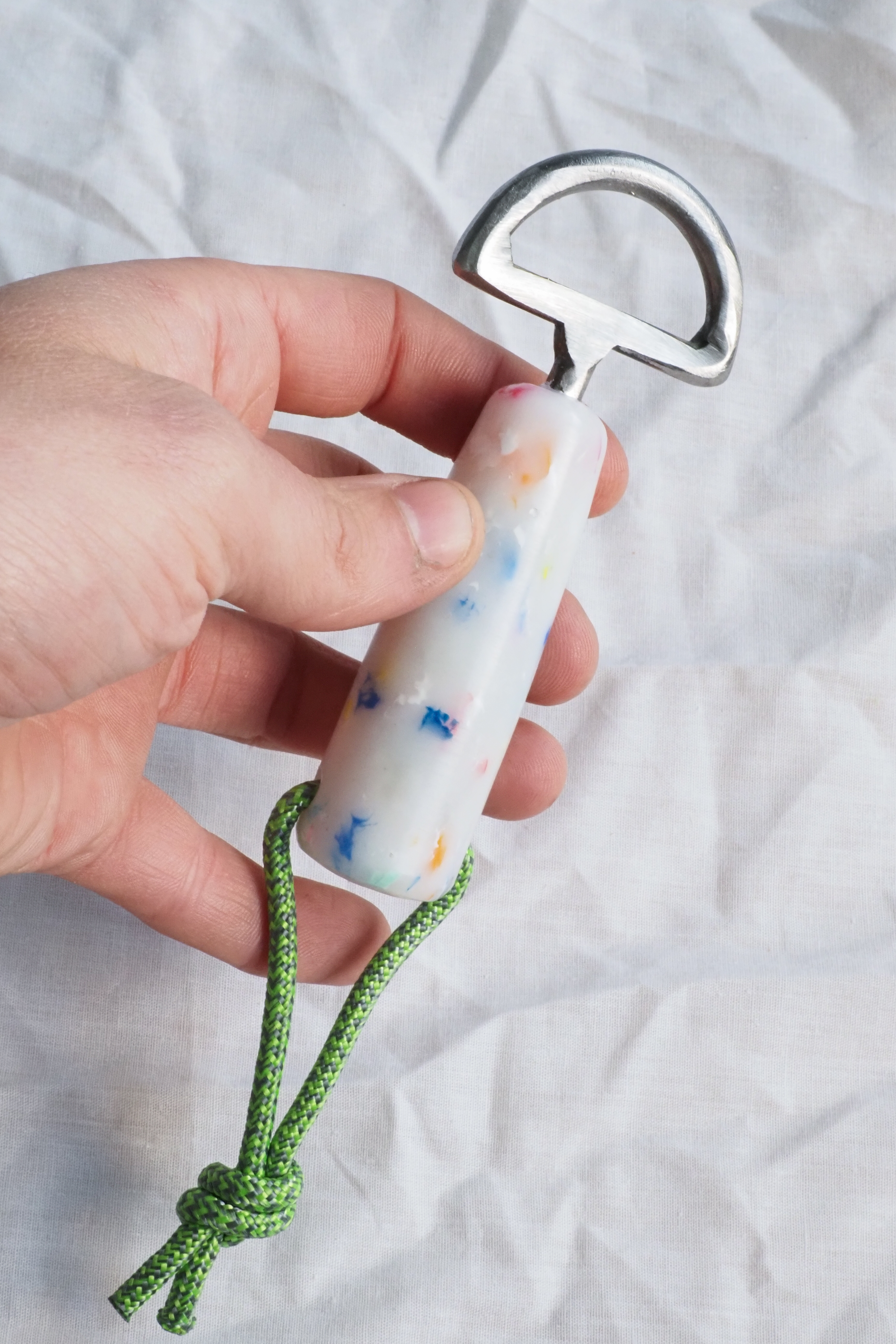 Bottle opener
A friend to help you open that cold beer after a long day, or just whenever yer thirsty.
Made with a HDPE handle, some recycled PET rope and steel from the offcuts section of the metal shop.
Approx measurements:
Length: 110mm
Width: 44mm
Weight: 75g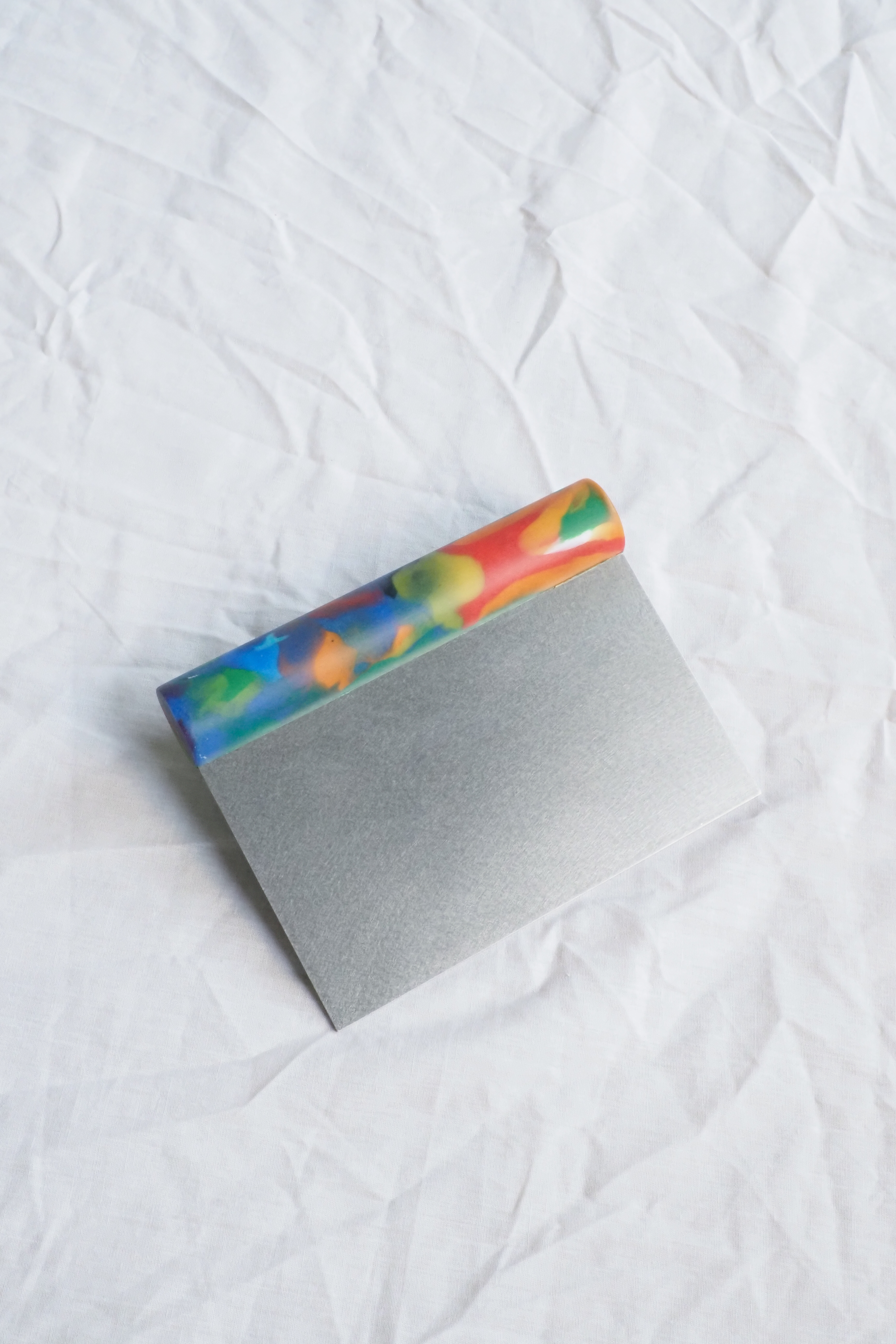 Dough Scraper
Back after a little holiday in the Caribbean, these tropical scrapers are a swirling blend of colour,
each one a tiny painting in yer hand.
75g of LDPE plastic in the handle and a stainless steel blade, designed to last a million years and bake a billion breads.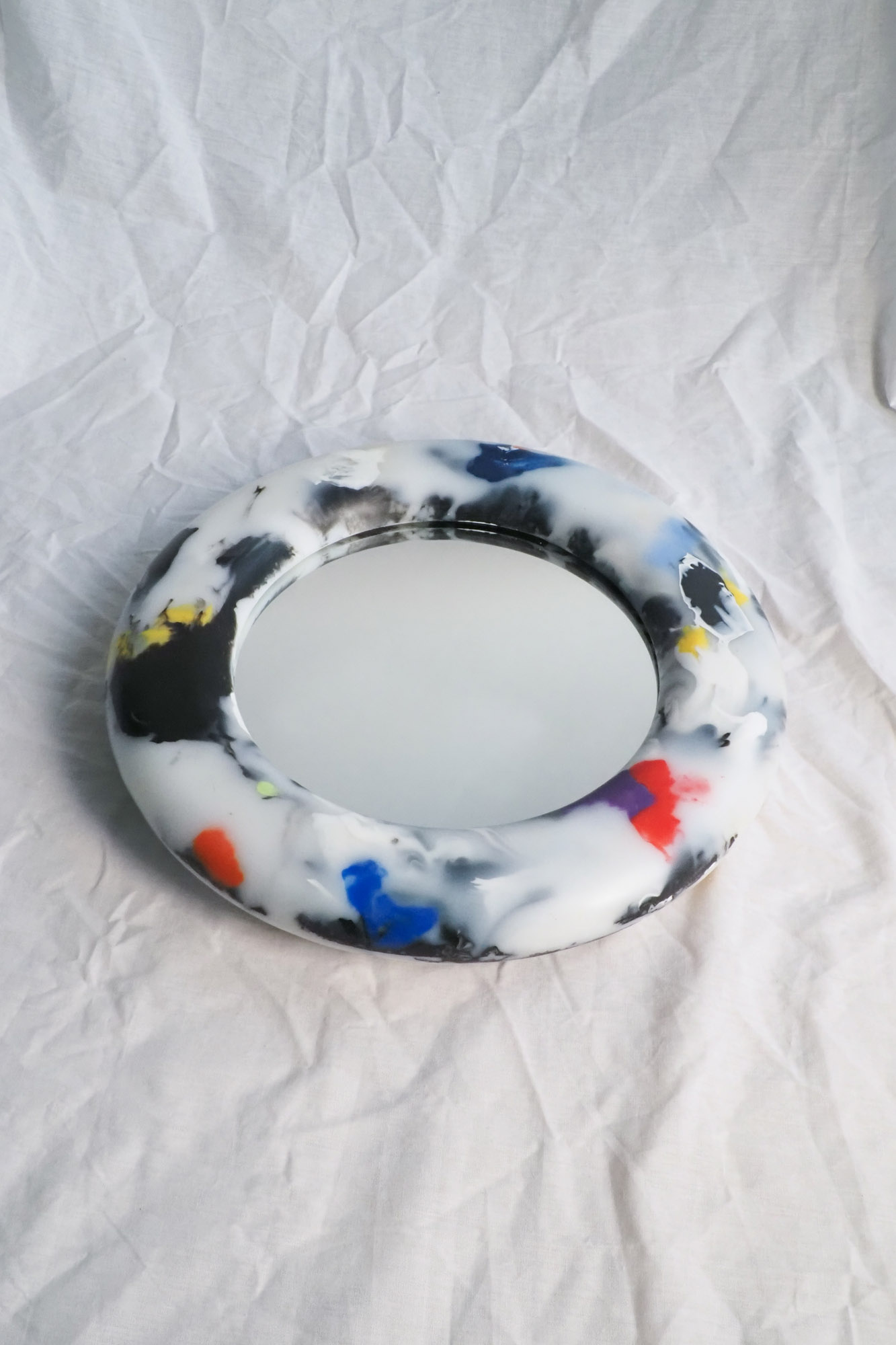 Donut Mirror
Look at you, you're wonderful.
A flowing mix of black and white film canisters with some smudges of colour.
There is a keyhole fixing on the back to attach it to your wall
Diameter: 320mm
Mirror Diameter: 200mm
Rim Width: 60mm
Weight: 1.9KG (1.2KG of recycled plastic)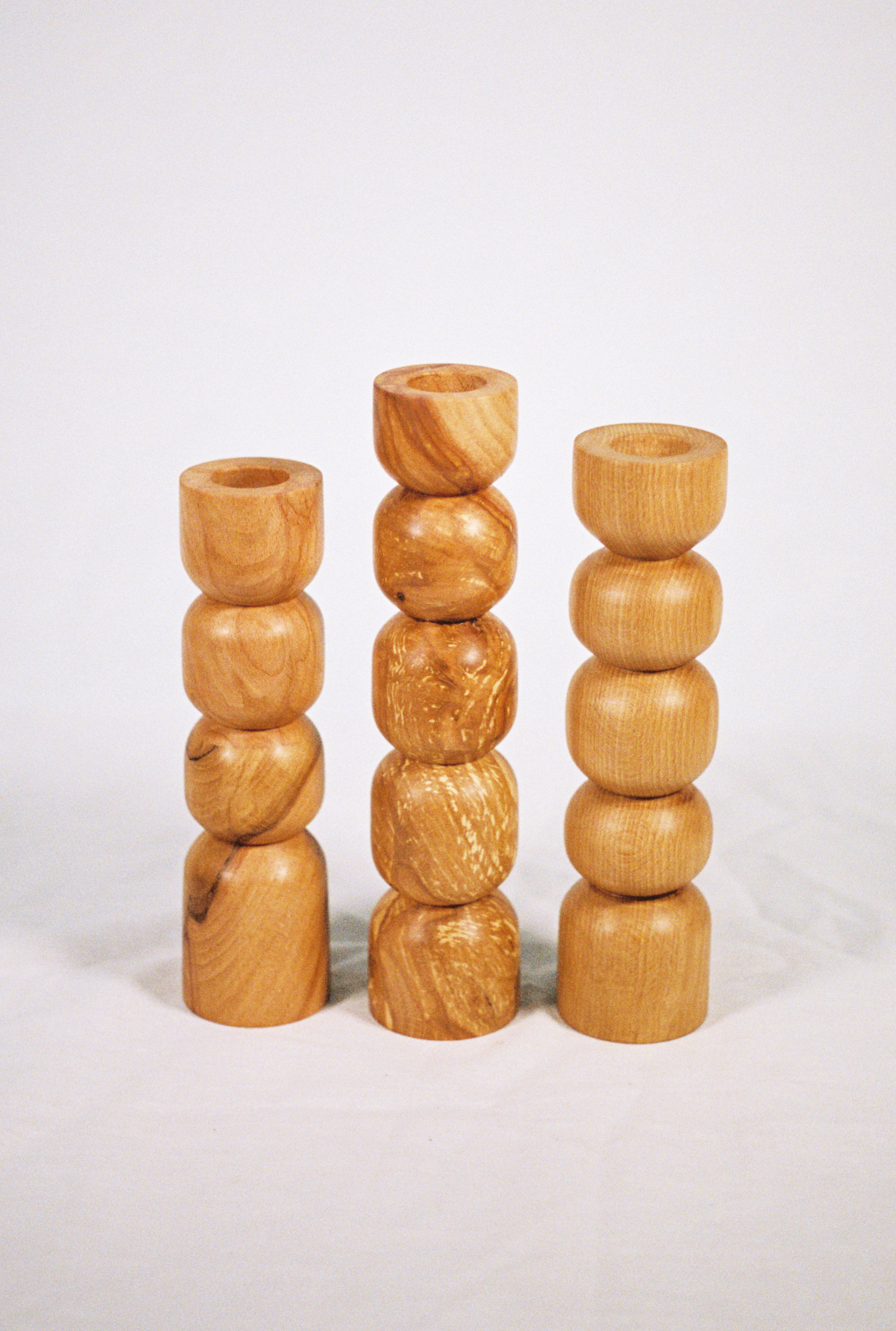 Candlesticks
Sticks for holding your waxy flames. Made with offcuts from turning the legs for our Stools.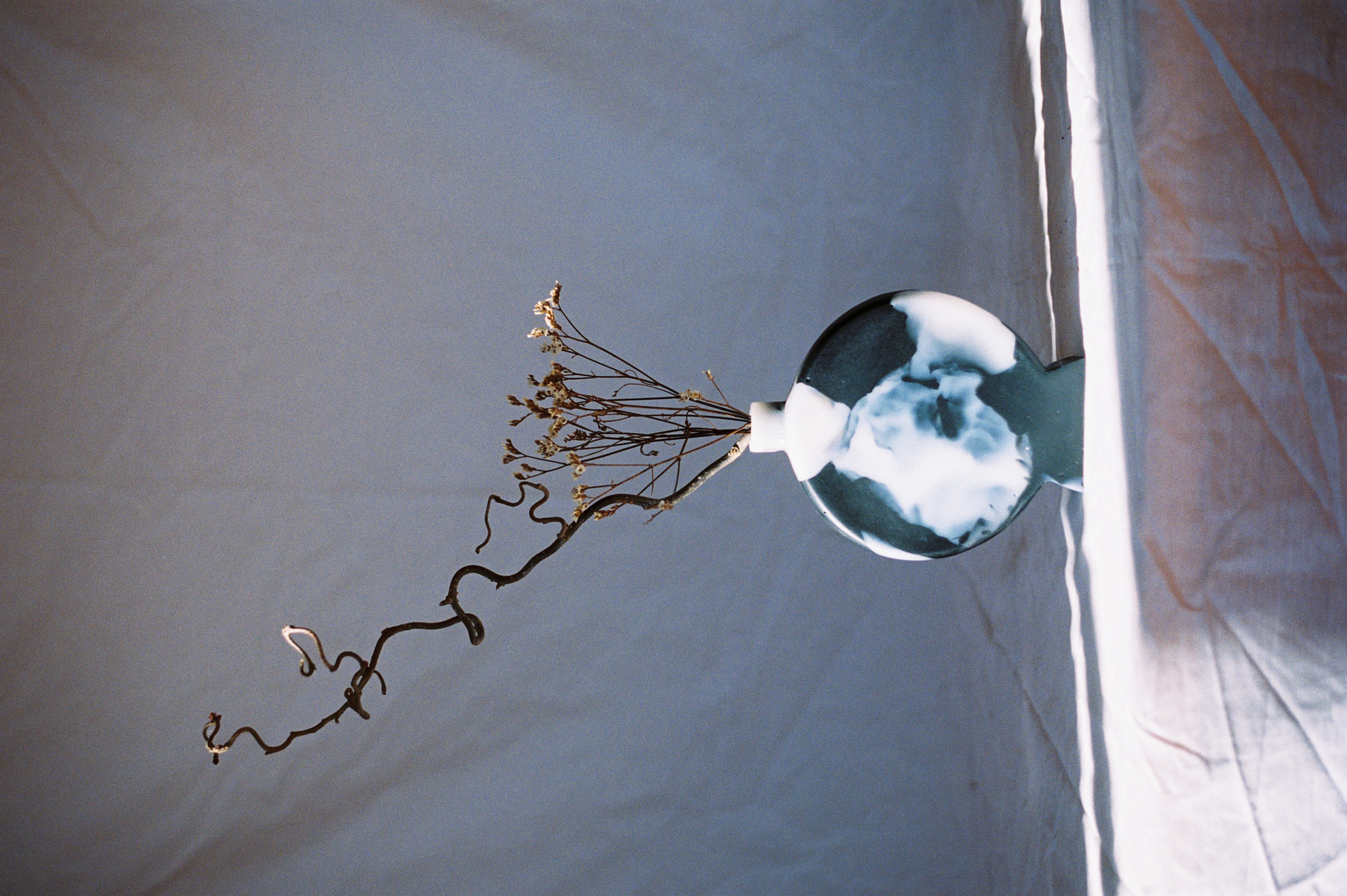 Pilgrim Bottle Vase
Our version of a pilgrim bottle. Inspired by all the ceramic bottles from penwith to iran from across the ages.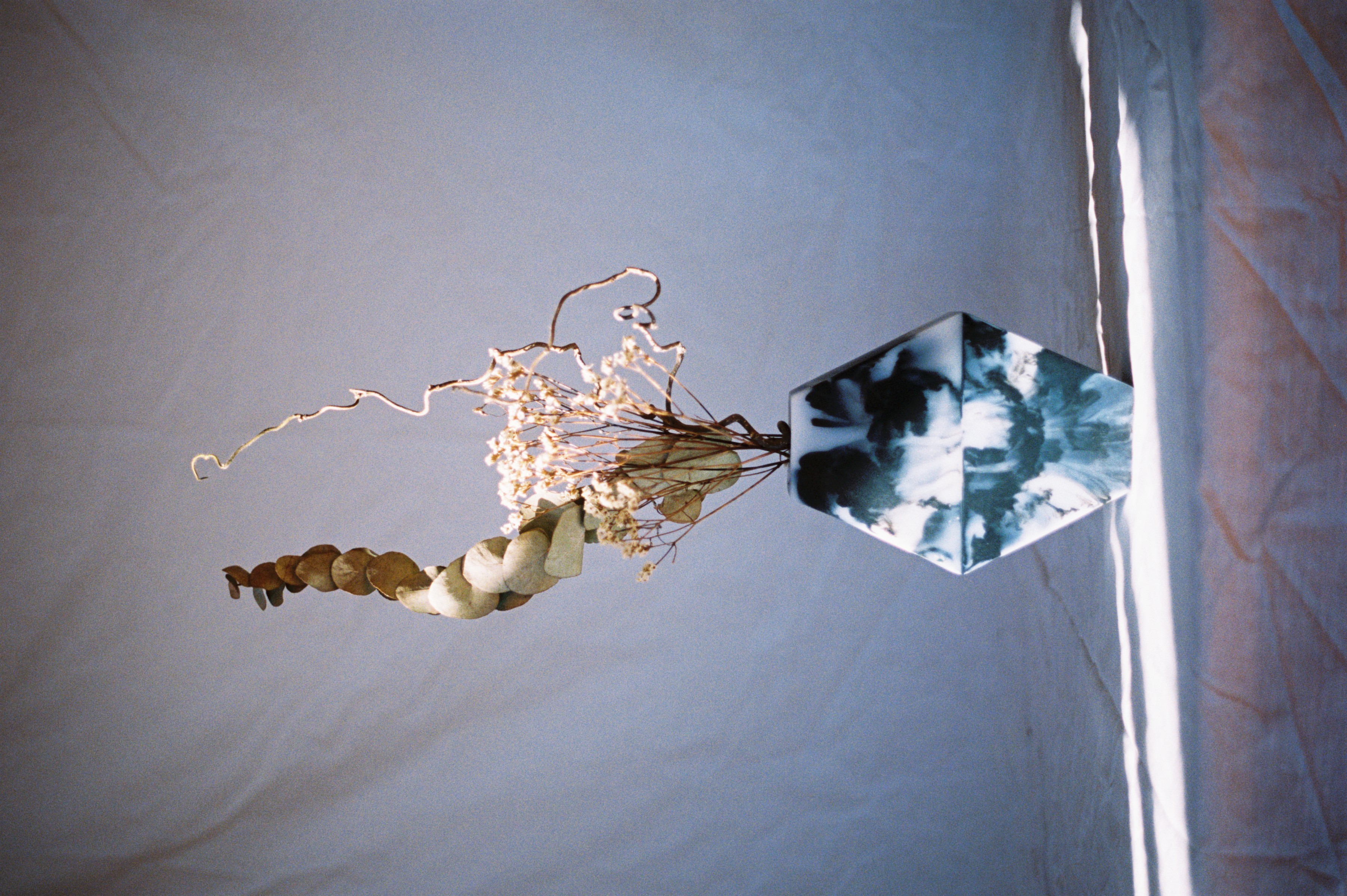 Angular Vase
Our first attempt at something a little more sculptural.